About Our Mission
About Houston Red Raiders Youth Sport Academy:
Houston Red Raiders Youth Sport Academy is a nonprofit 501c3 youth organization, we are members of USA Track and Field (USATF), the Amateur Athletic Union (AAU),Texas Amateur Athletic Federation (TAAF) . We provide football, baseball and track and field for kids ages 4-19.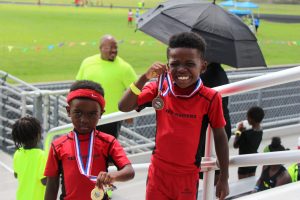 Mission Statement:
Our mission is to establish and maintain the highest ideals of amateur sports, promote the development of physical education, and to encourage the standardization of rules of all amateur athletics, games,competitions and promote academic excellence.
Our number one priority is to develop the mind, body, and soul of each individual child to create well-balanced athletes. Our programs focus on progression of skills through innovative training. We vow to meet every child's needs by increasing child game intelligence, physical performance, and love for sports.